wedding pies
0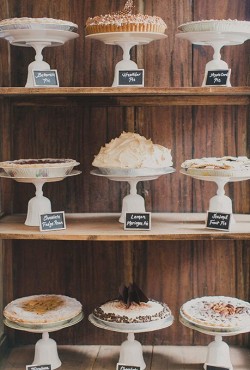 Next week is Thanksgiving, my favorite holiday.
Why do I love Thanksgiving so much? I could say "food" but in truth I love the pies for dessert.
I wait all year for a slice of pecan pie and a slice of pumpkin pie – both topped with crazy amounts of whipped cream.
As much as I love cake, I might love pie more.
Which is why we're talking about wedding pie today instead of wedding cake. Read More
0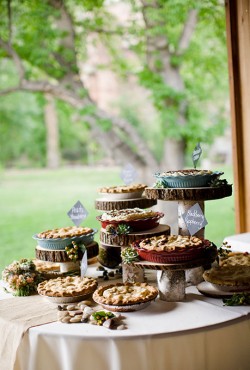 It's that time of year again – time for pie!
One of my favorite things about Thanksgiving are the pies – pecan, pumpkin, apple, or whatever flavor happens to be served.
I'll admit it – I love pie.
So that got me thinking about serving pie at a wedding reception. It seems like a great idea – instead of serving the traditional cake why not give your guests something different like pie! Read More
0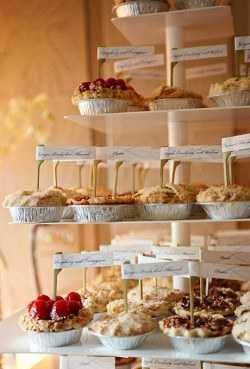 It's time to think outside of the cake box today!
As much as I love wedding cake (actually all cake), sometimes it's nice to color outside the lines and do something unexpected.
Like serving miniature pies instead of wedding cake.
Now that's a dessert trend I can get behind.
Everyone goes to wedding receptions prepared to eat a slice of cake but what if you wowed your guests instead with cute and delicious miniature pies? That would be an amazing reception! Read More