0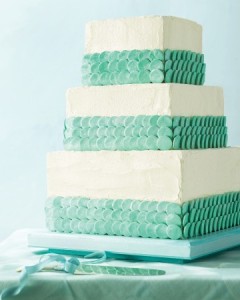 I love the beach. Specifically I love how the color of the ocean can change throughout a day from dark blue to greenish-blue and back again.
This wedding cake reminds me of my favorite ocean color – that sea green-blue when the water is clear and you can see to the bottom.
The three-tier cake features square cakes adorned with simple white icing and seafoam green Necco candy wafers.
Remember those candies? They're round and colorful and a bit, um, chalky. But what they might lack in flavor they make up for in usefulness as decorations on a wedding cake!
I love the color of this cake – it's perfect for your summer beach wedding. And, it can also be a DIY cake if you're up for the challenge. Or you could just tell your baker what you want.
Either way you'll have a gorgeous cake.
You can find this seashore-inspired cake here.
Read More:
beach wedding cakes
,
Blue Wedding Cakes
,
Green Wedding Cakes
,
ocean wedding cakes
,
summer wedding cakes
,
wedding cakes with candy