0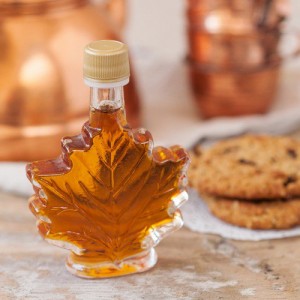 This week it has felt like fall and I can't say I'm complaining about the cooler temperatures. The leaves are just starting to change too which makes it even more obvious that fall is just around the corner.
So it's a good time to start thinking about fall wedding favors that your guests will love.
One of the best things about fall – other than the explosion of all things pumpkin – are the leaves! Which brings me to today's favor – miniature leaf-shaped bottles of maple syrup.
These bottles are on the pricier end of the favor spectrum – $5.25 per bottle – but they'd be perfect for a smaller reception. And if you're planning on have a brunch reception this would be a nice touch too.
Each bottle contains 1.7 ounces of maple syrup and there are 12 bottles per order. The bottles can be personalized with ribbons or hang tags too!
You can find these mini bottles of maple syrup here.
Read More:
edible wedding favors
,
fall wedding favors
,
fun wedding favors
,
leaf wedding favors
,
sweet wedding favors