0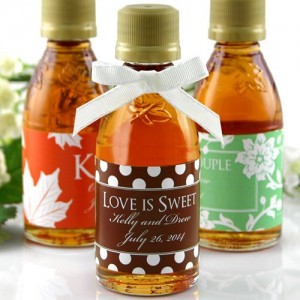 OK, I know what you're probably thinking – maple syrup as a wedding favor?
But you have to admit it's totally unique and it's not something you would expect as a wedding favor.
Which in my book makes it absolutely perfect!
Despite summer's best effort to hold on, the temperatures are going to eventually give way to fall. And for some reason maple syrup reminds me of the fall weather.
Plus, I love pancakes with maple syrup. So what better way to celebrate fall weddings (and breakfast) than with maple syrup wedding favors?
I think this favor would be absolutely perfect at a small, late morning wedding where your reception is actually a brunch. Your guests would love taking home a sweet reminder of your big day!
You can find this adorable and delicious wedding favor here.
Read More:
fall wedding favors
,
fall weddings
,
fun wedding favors
,
maple
,
maple syrup
,
sweet wedding favors