0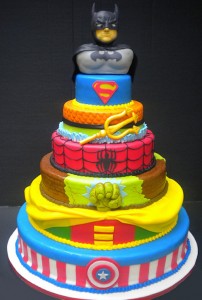 Happy New Year!
Since we're just a few days into 2016 it seemed like a good time to ease into the week … especially for those of you who might have been enjoying time off for the last week (or two).
So today's cake is all about fun – check out the superhero wedding cake!
Now granted, they're mixing Marvel and DC Comics which might be a big superhero no-no, but we don't care. This cake is COOL!
It might be a bit over-the-top for a traditional wedding cake, but it would make an awesome groom's cake.
Of course, if the newlyweds are huge comic book fans and don't mind combining Batman with Captain America, it would fun to have this cake as the centerpiece of the reception.
We found this cake thanks to the super cool minds at Buzzfeed. You can also find it here.
Read More:
comic book wedding cake
,
fun wedding cakes
,
superhero wedding cake
,
unique wedding cakes