0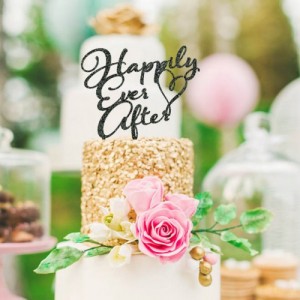 I am a big fan of cake toppers and I'm not just talking about those cute plastic figurines.
Nope. I'm also talking about something pretty and elegant, or classic, or even whimsical.
No one wants a naked wedding cake top, right? Even if you're just going to use fresh flowers – at least the cake has something on top.
Today I'm loving this 'Happily Ever After' cake topper!
The cake topper is acrylic but can be ordered in many colors and all are a bit glittery – so you'll be adding a little bling to the top of that wedding cake.
The fact that it comes in a variety of colors means you can personalize the topper to fit with your cake theme, cake colors, or even your favorite color.
The Happily Ever After cake topper is fun and elegant – a perfect combination.
You can find the cake topper here.
Read More:
elegant cake toppers
,
fun cake toppers
,
wedding cake toppers
,
whimsical cake toppers