0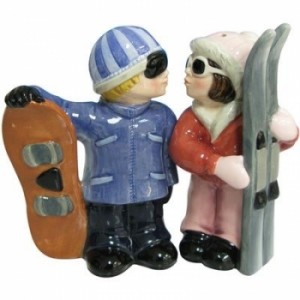 There is snow in the forecast for next week. OK, maybe not where you live, but where I'm located they are talking snow.
So I suppose this means winter is almost here and it's time to start talking about cute winter accessories for your wedding.
Like this adorable couple – the snowboarder and the skier.
I don't ski nor do I snowboard, but I still can't resist the adorableness of this cake topper. I love that they're kissing at the top of the slopes (or the cake if you want to look at it that way) before taking the big plunge down the snowy ski hill.
Imagine how cute this would look on the top of your wintry-themed wedding cake, especially if you and your betrothed are avid skiers or snowboarders! It would add that fun and personal touch that everyone wants on their wedding cake.
And as an added bonus, you can use them as salt and pepper shakers after the wedding, since both figurines have little holes in the tops of their heads! It's a two-for-one cake topper bonus.
I found this charming cake topper here.
Read More:
salt and pepper shaker cake toppers
,
skier cake topper
,
Snowboarder cake topper
,
winter cake toppers
,
winter themed wedding cakes
,
winter wedding trends
,
winter weddings