0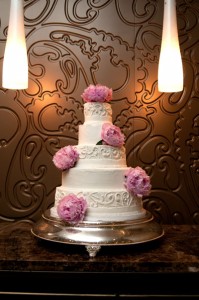 Blame it on the heat, or possibly overstimulation.  But lately, I've been craving posts about white wedding cakes.
Color is fun, color is fab, and color will probably be the star of my next post.  But the other day, as I was writing a guest post for another loverly blog (more about that later!), I began to search our catalog of cakes for a white cake.  And I couldn't find one.
Now, there's a lot of talk out there about "boring white wedding cakes."  I suppose that, if you're a baker and you're stuck making white cake after white cake, that would get a little, you know, mind-numbing.  But sometimes, it's fun – even unique! – to see a white wedding cake, because they seem to be kinda scarce these days.
When I saw this beautiful, beautiful cake from Addy B's Cakes in Savannah, Georgia, I just knew I had to feature it!  Chef Addy made the five – count 'em, FIVE! -tiered beauty for Ashley and Jonathan.  The couple wanted to use elements of their invitation in the cake's design, and Ashley also wanted to incorporate details of her wedding gown into the cake…and bride and baker found kinship over their mutual love of pink peonies. 
The five tiers tasted as good as they looked, too:  Chef Addy layered French vanilla cake with layers of white chocolate mousse and strawberry mousse, before covering the entire thing in heavenly white buttercream.  Pretty inside and out!
Read More:
flower cake toppers
,
peony cake toppers
,
peony wedding cakes
,
pink peony wedding cakes
,
simple wedding cakes
,
stacked wedding cakes
,
wedding cakes with peonies
,
white wedding cakes