0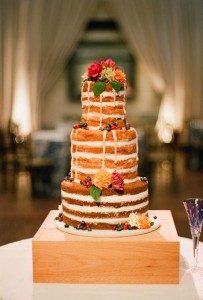 It's been a bit chilly around here in the evenings, which makes me think about fall.
Oh how I love fall. It's my favorite season – full of apples, sweaters, and all things pumpkin spice.
Of course I know we still have weeks of summer left. That's how it is in August and September in the Midwest. We get teases of fall for weeks.
So today, while I'm daydreaming about fall, I thought I'd share a wedding cake that also makes me think about fall.
This naked cake is quite stunning. I love the drizzle of icing on the sides of the cake – it gives it a distinct rustic vibe.
The addition of berries, greens, and dahlias add the perfect fall touch to the cake.
And for a naked cake, there looks to be enough icing for those of us who demand the "corner slice" because it has the most frosting!
You can find this cake here. It was created by Favorite Cakes.
Read More:
dahlias on cakes
,
fall wedding cakes
,
naked wedding cakes
,
Rustic Wedding Cakes
,
simple wedding cakes