0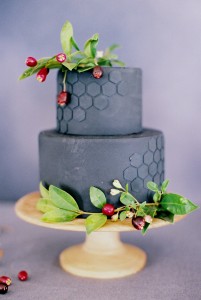 While we're huge fans of traditional wedding cake with flowers and cake toppers and all that jazz, we do love a dramatic, non-traditional cake.
Like today's dark and dramatic cake with black icing.
This cake, featuring honeycomb design on the dark icing would be perfect for a winter wedding – or even an early spring wedding.
We love the color of the icing – almost a bluish-black tone with just a slight pop of color thanks to some greens and berries.
You'll need to have a dramatic color scheme in order for this cake to fit your wedding theme. But the unexpected color will be a lovely centerpiece! It would also work as a groom's cake, minus the greens and berries.
You can find this dramatic cake here. It was created by Nine Cakes.
Read More:
dark wedding cakes
,
dramatic wedding cakes
,
gray wedding cakes
,
grooms cakes
,
winter wedding cakes