0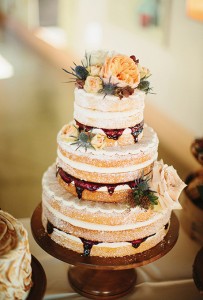 Fall is definitely here and that means it is a perfect time to check out some rustic wedding cakes!
I love the idea of a cake that represents the season of your nuptials and rustic seems to go hand-in-hand with everything fall!
Today's cake happens to be a naked wedding cake – a trend I'm starting to love more and more – and it has a special touch thanks to some jam filling.
This cake is really quite gorgeous thanks to a dusting of powdered sugar and the dark jam dripping from between the tiers. Add some delicate blooms and assorted woodland greens and you have the perfect rustic fall cake!
If you aren't a fan of the deep red jam, I'm sure you could skip it, but personally I love the dramatic look that it lends to the cake.
You'll find this cake here. It was created by Cakewalk Bake Shop.
Read More:
fall wedding cakes
,
naked wedding cake
,
Rustic Wedding Cakes
,
wedding cakes with jam