0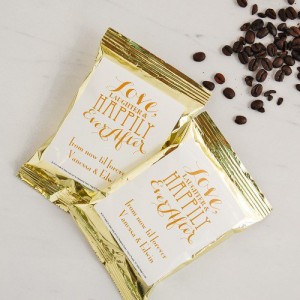 I don't know about you but I can't start the day without at least two cups of coffee. Sometimes three.
Which might explain why I love today's wedding favor so much!
These individual personalized coffee favors are the perfect wedding favor for your guests.
And if they're paired with a cute mug (perhaps from a local coffee shop) or a coffee scoop it's even better!
The coffee favor would also be a great addition to a 'welcome bag' for your out-of-town guests. Add a coffee mug, some local baked goods, and your guests will be so happy.
These favors can be personalized to fit your style or theme. And, they're economical!
You'll find the coffee favors here.
Read More:
coffee
,
favors
,
food and drink favors
,
fun wedding favors
,
personalized favors