0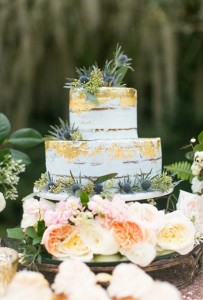 Two of my favorite colors on a wedding cake are white and gold.
There's just something about the color combination that is elegant and traditional.
Plus you can't go wrong using gold at the holidays.
Today's cake is rustic with a touch of elegance thanks to the addition of gold flakes on each tier.
The cake looks like a million bucks, but we're sure it doesn't cost that much.
The addition of beautiful blooms and some fall fruit make this cake the perfect addition for your fall-themed reception. Of course if you're getting married in a different season just add some seasonal blooms to personalize it.
You can find this rustic gold and white cake here.
Read More:
fall wedding cakes
,
gold and white cakes
,
gold wedding cakes
,
Rustic Wedding Cakes