0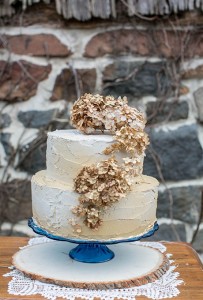 There must be something in the air this week … this is the second gold-toned wedding cake we've featured in the past few days!
I'm beginning to think that I have gold on my mind. Which isn't a bad thing.
Lately I'm starting to look for more rustic wedding cakes – I still love the over-the-top elegant cakes, but there's something to be said for a simple yet gorgeous rustic cake.
Like today's cake.
The two-tiered cake is just every-so-slightly ombre white and gold which gives it a lovely fall hue. The addition of the gold-painted hydrangeas gives the cake that extra pop of glam without making the cake too "fancy" to be rustic.
This cake would be gorgeous at a fall wedding … in a rustic setting.
You'll find this cake here.
Read More:
fall wedding cakes
,
gold wedding cakes
,
ombre wedding cakes
,
Rustic Wedding Cakes