0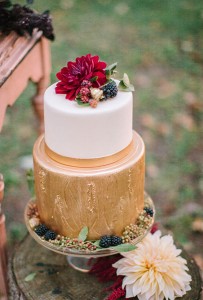 Despite the never-ending summer-like temperatures outside, we are getting closer and closer to the first official day of fall!
Which means it is time to start thinking about fall-inspired wedding cakes.
I love the idea of rustic cakes for a fall wedding, something with a unique twist.
Like today's featured cake.
This white and gold confection is elegant with a touch of rustic in the mix too. Look closely at the gold-hued bottom tier. It looks like a gilded tree stump thanks to a wood-grain texturing.
The addition of fresh flowers and berries finishes the rustic vibe.
This golden cake would be ideal at an early fall wedding!
You can find this cake here. It was created by Elysia Root Cakes.
Read More:
elegant wedding cakes
,
fall wedding cakes
,
gold and white cakes
,
gold wedding cakes
,
Rustic Wedding Cakes