0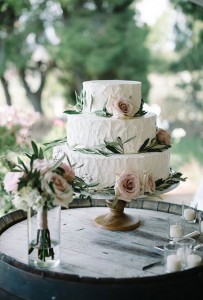 As we get out of the Christmas holiday season and head toward the next major holiday – Valentine's Day – let's talk about wedding cakes that ooze romance.
Like today's cake.
This three-tiered cake is delicate and pretty and romantic, thanks to the color palette and the addition of some gorgeous roses.
The rustic cake would be ideal for a late winter or early spring wedding.
The pretty icing paired with pale pink roses and eucalyptus leaves create a perfect rustic and romantic combination.
You'll find this wedding cake here. It was created by Edelweiss Bakery.
Read More:
cakes with flowers
,
cakes with greenery
,
cakes with roses
,
elegant wedding cakes
,
romantic wedding cake
,
roses on wedding cakes
,
Rustic Wedding Cakes
,
spring wedding cakes