0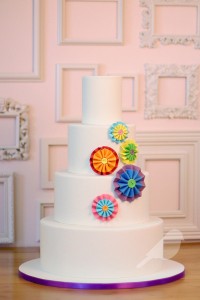 I love the idea of a bright and colorful wedding cake!
Whether we're talking about a rainbow hued cake layered under white icing or a cake that is frosted in a bright, cheery color I just love colorful cake!
Take today's featured cake as an example.
The gorgeous white icing is accented with several very colorful pinwheels and it's a perfect combination for a summer wedding.
Why would you want to go with just one color when your cake could feature so many pretty colors?
And, there's no need for a cake topper or anything else with this cake – the pinwheels are all the color it needs. But how fun would it be to cut into a cake like this and reveal rainbow layers? Now that's a colorful cake!
You'll find this cake here. It was created by Chickadee Hill Cakes. And check out this gallery of creations from Chickadee Hill Cakes!
Read More:
bright wedding cakes
,
colorful wedding cakes
,
summer wedding cakes