0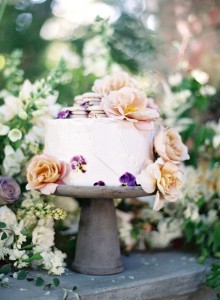 There is something to be said for an elegant one-tier wedding cake, especially if that one tier is elegant and whimsical and practically perfect in every way.
Take today's featured cake.
It might be small but it packs an elegant punch!
This one-tier cake features light lavender icing and is embellished with fresh flowers – including violets – and topped with macarons and more fresh blooms.
I love the idea of using sweets to decorate a cake – you can have your cake and cookies too.
This cake would be perfect if you're planning a dessert table – the happy couple can cut the cake and everyone gets to enjoy a variety of sweets, including macarons like those used on the cake.
You'll find this stunning cake here. It was created by Paula LeDuc Fine Catering. Photograph by Jose Villa.
Read More:
cakes with fresh flowers
,
elegant cakes
,
flowers
,
macarons
,
one tier cakes
,
small wedding cakes
,
summer wedding cakes