0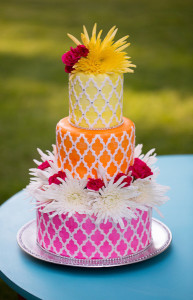 We're at that point in the summer where everything has bloomed and the flowers are bursting out of their pots and a wedding cake that is bursting with color seems just about perfect.
Take today's featured cake as an example.
This cake is all about color! You can't help but be happy and smiling when you look at this cake.
The tiers feature bright hues of yellow, orange, and pink embellished with a modern geometric design, sparkling gems between the tiers, and even fresh blooms.
The addition of the white, pink, and yellow flowers add the perfect summery touch to this cake.
You could even darken the color choices a bit for a fall-themed wedding cake.
You'll find this cake here. It was created by Cindy's Cakery, LLC.
Read More:
black and white cakes with flowers
,
bright wedding cakes
,
brightly colored cake
,
colorful wedding cakes
,
modern wedding cakes