0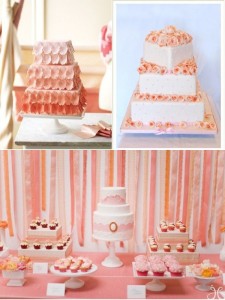 Spring Showers are bringing May flowers, and I don't know about where you are, but we're already hitting the hazy, lazy, crazy days of summer here in the Southeast.  Oof, I would like spring back, please.
But no complaints.  Hot weather means a slowdown to work, and taking some time off – unless you're in the wedding industry, that is.
In looking around this week, we're just astounded at the beauty and talent that surrounds us.  There has never, ever been a better time to plan a gorgeous wedding.
So, without further ado, let's get down to the best of the best happening in the World of Wedding this week, and let's start with The News:
Adorable country singers Miranda Lambert (winner of lots o' Grammies) and Blake Shelton (celebrity judge on NBC's The Voice) are set to get hitched in a big Texas country wedding this weekend. (Fun Tweeters, both of these two.)
The Duke and Duchess of Cambridge reportedly got started on their honeymoon first later, then earlier, than we expected.  The two reportedly jetted off to The Seychelles earlier this week.  (Hubs and I considered it, but couldn't swing the-then $8000 airfare.)
An article from the St. Petersburg Times discusses what trends we might – and might not – see from the Royal Wedding.
Here's a great article for DIY brides who are (gasp!) planning their own wedding:  How to Know How Much You'll Need – everything from beer to favors to cake, of course. 
And now, let's turn our attention to The Sweet and Pretty:
Think peach is soooo 1980s?  We did, too – until we saw this beautiful collection of photographs featuring the soft orange color by Calligraphy by Jennifer.  The cakes.  Oh, the cakes.  (So pretty we HAD to feature them!)  
You know we love us some DIY around here.  Well, if you'd like to fix your own favors, or a treat for your sweets table, may we suggest this super-delectable-looking homemade honeycomb candy, courtesy of Cakespy.  (We confess:  they had us at "hunny.")  Um, YUM.
What an absolutely beautiful Hudson Valley wedding via Style Me Pretty.  (The locket attached to the bride's bouquet reminded me of the one I carried with my father's picture on my wedding day.  There might have been a tear swiped from my keyboard just then.) AND – cake simplicity.
Amanda at I Am Baker does it again:  some of the most charming cookies we have ever seen, ever – her rose cookies in a rainbow of soft colors. 
Girly Wedding gives us Three Excellent Reasons to Mix and Match Bridesmaid Dresses.
With "pale" everywhere, I am lovin' The Perfect Palette's Country Club Chic colors, featuring navy blue, grey, and white. 
That's all for today.  Have a delicious week!
Read More:
Blake Shelton
,
Duke and Duchess of Cambridge
,
homemade honeycomb candy
,
Hudson Valley weddings
,
Miranda Lambert
,
mix and match bridesmaid dresses
,
peach cakes
,
peach wedding cakes
,
planning a wedding
,
royal wedding trends
,
The Seychelles
,
wedding color palettes