2
Posted on August 28, 2011 by Brooke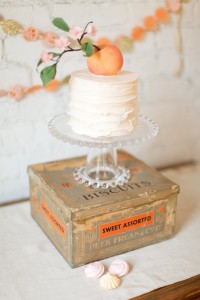 Happy Sunday, Everyone!
We're in sort of a holding pattern here today…anyone else?  We're talkin' 'bout that time of year when kiddoes go back to school, but Labor Day hasn't happened yet…so in your brain, you're thinking brisk weather, polished and shiny apples for the teacher, and penny loafers…but on the news, you're seeing summery things like hurricanes and picnic preparations.  It's all so confusing.
So…if you're like me, and you'd really like a respite for your tired, overworked brain, check out some of the latest from the World of Wedding.  We've gone in search of all the Sweet and Pretty so you don't have to 😉
But first, here's a little News:
From our own page…Christen shares the first pic we saw of Kim Kardashian's wedding cake – which measured in at six feet.  I would seriously like to know the logistics of serving this one.
2011 will be remembered as the Year of Royal Weddings, I think.  Germans had their turn in the spotlight, as Prince Georg Friederich Ferdinand of Prussia married Princess Sophie of Isenberg on Saturday.  The groom is the great-great-grandson of Kaiser Wilhelm II, the last German emporer before the monarchy ceased being in that country.
In the category of OH NO NO NO! – Suzanne and John Cubberly have their wedding impacted by a hurricane – again.  That's twice to the day in forty years, Friends.
I'm sorry, What?  Lady GaGa is reportedly planning a wedding.  Like, for herself and on/off again boyfriend, Luc Carl.
And now, onto the The Sweet and Pretty:
Sure, it's hurricane prep…but it's still pretty!  From Sweet on Wall St, here's how to be Prepared.
We love this stunning California wedding, which featured an all-white floral pallette.  The bride's dress is absolutely beautiful, and her bridesmaids shine, too.  Finally – love that cake, of course!  Courtesy of Style Me Pretty, Mike Colon, photographer.
If I had a girl crush, I suspect it would be on Alison from The Knotty Bride…and posts like this one, on the importance of photo crediting when using Pinterest – exactly why.  LOVE.  (and the cake pics are super fab, too! – so much that we feature above.  Cakes by Lael Cakes, photo by Jen Huang.)
This is a great two part post about the cake creation process, from sketch to finished work.  From A Cake Life Blog, Cherry Blossom Cake, Part 1 and Part 2.
We watched the Twitter saga unfold…and so we have to show you the finished product: Kara Buntin of A Cake to Remember makes "fuzzy" lambs ear leaves (and dusty miller!) for an upcoming wedding cake.  Awesomeness.
This beautiful "mismatched" wedding – breathtaking from the bride's beautiful fascinator, right down to the cake pops and cupcakes – courtesy of Whimsical Wonderland Weddings.
We can't help it…this part of the aWCB "we" grew up in the 70s and 80s…and so you must be shown this amazing Rubik's Cube cake, courtesy of the very talented Intricate Icings.
Emmaline Bride pointed out these adorable and edible treasures – cameo cookies!  Head right to Katie's Something Sweet to order yours!
Have a Delicious Week!
Read More:
all white weddings
,
cake pops
,
cameo cookies
,
cherry blossom cake
,
german royal wedding
,
hurricane preparation
,
hurricane wedding cancellation
,
kaiser wilhelm great great grandson
,
kaiser wilhelm ii
,
Kim Kardashian
,
lady gaga
,
mismatched weddings
,
photo crediting
,
pinterest
,
prince deorg friederich ferdinand
,
princess sophie
,
rubiks cube cake
,
sugar paste lambs ears
,
sugar paste leaves
,
wedding cup cakes
Recent Posts