0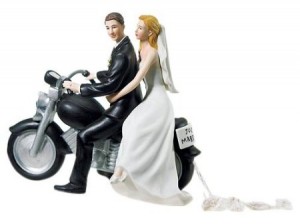 So I've actually never been on the back of a motorcycle.  Or the front of one, for that matter.  I think they're crazy dangerous and they scare me.  But I still fantasize about being on one.

So I love this bride and groom on a motorcycle cake topper.  About as much as I love the whole whisk-me-away-on-the-back-of-your-horse,-Prince-Charming thing.  I know.  Liberated women aren't supposed to say such things.
But ANYWAY – I realized that some of you may actually have fiances who ride, and you may ride on the back.  Or maybe you have your own bike.  So this would be just thing.  For scenario #1, anyway.
Just do me a favor.  Tuck your train in somehow so your skirt doesn't get jerked off when he accelerates.
Do you NEED this cake topper for your wedding cake?  You're in luck, because you can get it here!
Read More:
Bride and Groom Cake Toppers
,
funny wedding cake toppers
,
motorcycle wedding cake toppers