0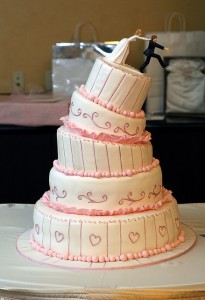 You know that line in "Pretty Woman," the one where Richard Gere asks Julia Roberts what happens after the knight saves the princess?  "She saves him right back," she replies.
That came to mind when I saw this beautiful and whimsical cake.
There are several things that I love about it.  First, it utilizes the uber-popular asymmetrical design – but in a fresh, new way.  The decoration is meticulous – frosting is uniform in color, and applied with a sure hand.  So important when using the topsy-turvy style – otherwise, it just looks sloppy.  But here, the gumpaste ruffles are perfect, as are the piped pearls.  And the cakeboard has been decorated to match the cake.  Love!
So, after a long week, at a time when I could use a laugh, this cake appears.  Can you imagine what a breath of fresh air that reception must have been?  Here's a bride and groom that are able to relax, have fun, and encourage everyone else to as well.
Sounds like a recipe for success to me.
Read More:
Asymmetrical Wedding Cakes
,
Bride and Groom Cake Toppers
,
Buttercream piping
,
fondant
,
Interesting Cake Toppers
,
Pink wedding cakes