0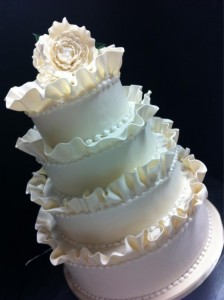 We're apparently in good company when it comes to ruffle love!
You saw our terrific Ruffle Week 2011 last month, yes?  With cascading ruffles, ombre ruffles, and even white chocolate ruffles.  Sigh. We're still kind of pretty-drunk from it all.
But lo and behold, MORE ruffles poured in!  Tasha Nagy from Kick Ass Cakes in Fraser Valley, British Columbia sent me this sweet and pretty cake because she knows we are OBSESSED!  Seriously!  Ruffles!  Pearls! Flowers!  All White!  It's like Tasha made a Brooke cake.  In fact, I think we should name this cake "The Brooke."  What do y'all think?
If you want to see more of Tasha's fantastic work – and, believe me, you do – head over to the KA website, and check out her fab gallery!
Read More:
kick ass cakes british columbia
,
kick ass cakes canada
,
ruffle wedding cakes
,
ruffle week 2011
,
white wedding cakes