0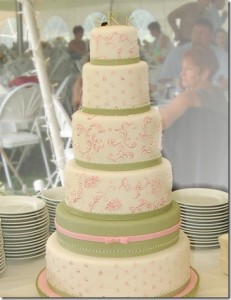 Happy Easter, Everyone!  On this most spring-y of days, we're excited to look around and see all the beauty that is popping up everywhere.  As we shed our winter coats for sun dresses, and trade in those fashionable boots for comfy flip flops, we're excited to see what will be new for spring and summer in the world of wedding and sweet and pretty cakes!
We're also happy to share with you what we've seen in our travels this week, but we'll start with a spot of The News:
LeAnn Rimes and Eddie Cibrian make it official on Earth Day – as guests who thought they were attending an engagement party turn into wedding guests.
And, because it's impossible NOT to find a story on the Royal Wedding this week, the official royal wedding list and seating plan have been released.  Among other details, we see that the Spencers (Princess Diana's family) will NOT be sitting with the Windsors.
Games.com also reports that you can even catch Royal Wedding Fever in Farmville.
Cunard last week, and now Virgin Atlantic:  the popular airline company will host "traditional UK street parties" on flights departing the UK for the US or the Caribbean.  Fun!
And here's The Sweet and Pretty:
I am laughing out loud, because during the same week that Christen confesses she's so OVER pink and green – I sing it from the rooftops!  Check out Calgary Bride's celebration of the preppiest color combination known to man – Pink and Green Fabulousness!  The cake is gorgeous, but I'm equally enamoured of the sweet and simple hydrangea and rose nosegay.
Does anything say spring better than a tea party?  And if you're going to have a tea party, well, it might as well be interesting.  We love Vintage and Cakes'  Alice in Wonderland Cupcakes – complete with "wonky teacups" in miniature and a giant cupcake as centerpiece!  She couldn't have captured the story in buttercream any better.
We heart Amanda at I Am Baker anyway.  But now, she shares more great DIY Frosting tips for brides who want to get in there and get the job done themselves!
Mary from Cake Talk in North Port, Alabama, may have created one of the most stunning cakes ever:  behold, her pearl cake.
The two cakes that Edd Kimber created for the series The Great British Wedding Cake – featured in his He Bakes blog – are sending me to my shelves to see if I can make that traditional cake THIS VERY MINUTE.  And for dessert, well, macarons, of course!
Always a Blogsmaid offers this practical advice on how to cut down that guest list.
Have a Delicious Week!
Read More:
diy frosting tips
,
Eddie Cibrian
,
Farmville
,
LeAnn Rimes
,
pink and green cakes
,
pink and green weddings
,
preppy
,
Princess Diana
,
royal wedding
,
royal wedding seating chart
,
Spencers
,
spring
,
The Great British Wedding
,
Virgin Atlantic
,
wedding guest list