0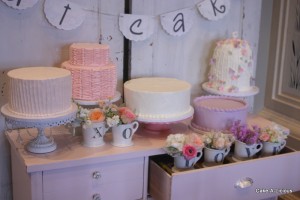 Spring, spring, SPRING!  Well, almost…according to the weather and the calendar.  We're looking forward to longer days, pretty flowers, and lots and lots of sweet treats!  Here's what we've found to share with you during our tweets and travels throughout wedding cyberspace this week, as always, beginning with The News:
Ever wondered what Prince Charles' and Princess Diana's cake looked and tasted like? (We hear there were several, but that's beside the point.)  If you'd like to know, then head to – are you ready? – Kansas City! – where Marriott pastry chef Gus Ruiz has recreated the five-tiered wedding cake to highlight an exhibition about Princess Diana.  And for the time being, the hotel's restaurant also has the cake on the dessert menu – created from the original recipe.
We're all for saving money where you can – but making your dress…out of toilet paper?  Actually, it might be worth a $1000 prize in the Toilet Paper Wedding Dress Contest. 
And as for The Sweet and Pretty:
For you Royal Wedding watchers out there, news from One Wed that Prince William and his bride-to-be, Kate, are practicing another oh-so-c0mmon modern wedding ritual:  they're launching a wedding website.  Don't you love living right here, right now??
Floppy, ruffly flowers are filed under the tab, "Love!" in my rolodex!  Check out this beautiful – and simple and easy-to-replicate idea for French flower market centerpieces, courtesy of Valley & Co.
Always a Blogsmaid reminds us of their awesome Diamond Star Wedding Contest for Military Girlfriends and Servicewomen, and shares a few fun facts about what we're spending on weddings these days.
We think Sweet Things' Camaro Z28 Cake would make a swell groom's offering for your muscle car guy.
To continue on with the fresh, informal theme set by our floppy French flowers above, we heart this shabby-chic arrangement of cakes by Utah's Cake-A-Licious, as featured on The Bride and Groom.
Wowza – interesting piece here about Will Cotton's art and his desire to feed the tummy as well as providing a feast for the eyes…but what we really dig is the wedding cake pic halfway down.  Brill!  (Hey, it counts as new if it's new to me.)
Have a Delicious Week!
Photo by Cake-A-Licious.
Read More:
crazy stacked wedding cakes
,
Diamond Star Wedding Contest
,
Prince Charles and Princess Diana
,
royal wedding
,
royal wedding website
,
toilet paper wedding dress contest
,
wedding flowers
,
Will and Kate