0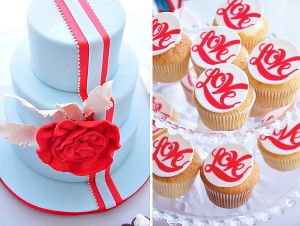 Oh, are you having summer attacks, too?  I don't know if it's the cruise I'm about to take, or the vacay that's coming up in a few weeks, or my close proximity to the beach, but I have a wicked case of the Summers!  Right now's the right time to be relaxing by the pool, icy cold drink in hand.  Makes for a difficult work week.  Well.  Except that I work with, you know, CAKE.  All the time.  So maybe I should stop complaining right about now.
I've seen plenty of wedding inspiration to lead me down this primrose path though, so I suppose I am not solely to blame.  Everyone seems to be rushing headlong into summer, like so many kids running to see who can make the biggest canonball in the deep end.
So let's take a look at all the pretty there was to see this week.  But first, The News:
Thought we were finished with royal weddings?  Nope, nope, nope.  Prince Albert of Monaco is set to wed South African Olympic swimmer Charlene Wittstock on July 2 in the tiny principality.
The Chicago Tribune takes a fun look at five wedding myths, busted.
Princess Catherine's wedding finery will be on display this summer for the world to see, as an exhibit, including her dress, tiara, shoes, and jewelry – as well as the couple's cake – are placed on display at Buckingham Palace from July 23 to October 3.
And now for some Sweet and Pretty:
Here's a trend that we can get behind.  Beautiful Rainbow Weddings!  Yes!  (Courtesy of Inspired by This.)
I am really diggin' this groovy and colorful "British Invasion" Bridal Brunch, featured on HWTM Blog!  Our faves are the blue and red cocktail – stunning! and this incredible cake is by Sugar Couture.
You know that DIY is our middle name.  Check out The Knotty Bride's pretty and whimsical flag and XOXO wedding cake topper idea that you can make yourself.
Lots o' little people at your celebration?  Kelly McWilliams and Co. comes up with some terrific ideas for making your destination wedding kid friendly on her Wedding Tidbits blog.
Erica O'Brien discusses her cake approach, and the imagery that inspires them.  Love, LOVE the lavendar, inspired cake, as well as the tailored square tiered cake!
Erin Ever After features a week of Wedding Lovelies, complete with a stylish and modern chevron cake.
Emily and Robert's simple and elegant celebration in black and white, courtesy of Junebug Weddings.
Have a delicious week!
Read More:
Charlene Wittstock
,
diy wedding cake toppers
,
Duchess of Cambridge
,
kid friendly weddings
,
Monaco Royal Wedding
,
Prince Albert of Monaco
,
Princess Catherine
,
rainbow weddings
,
wedding myths