0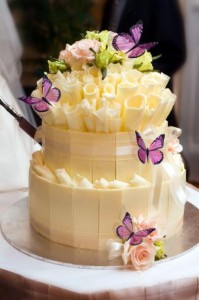 I've just returned from a week of traveling, of visiting with friends and enjoying special meals, good company, and lots of laughter.  But today, I'm happy to wake up in my own sunny home, and to bring you the best and brightest of what we've seen this week.  So without further ado, here's the round-up for March 27.  But first, the news:
Prince William and Kate Middleton have selected their cake design – and it's just as traditional as some of us might have hoped for.  But Prince William did manage to throw a bit of whimsy into the mix by requesting a cake featuring a favorite childhood treat – McVities Chocolate Biscuits.
A Dallas couple's wedding features .  A groom cake (no, literally – a groom cake) was planned, but the baker ran out of time – and presumably, eggs.
And now, to The Sweet and Pretty:
If you happen to be attending a New Jersey bridal show today, you may want to check out NJ Wedding's handy calendar of wedding planning events.
Daphne Baking Co. pointed us to this terrific resource by TheNibble.com:  a handy wine and dessert pairing chart!  Perfect to take the guess work out of what to serve on your big day!
Are you a DIY baker, like me?  Then you'll love some of these neat tips and products that Jen at Sweet Treats by Jen shows us.
Have a favorite quote?  Is it short?  Why not feature it on your cake?  (Thanks to SheDreamsofWedd for this one.)
Traveling through Raleigh and Atlanta this week sent me looking for lovely cakes to feature from those fair cities.  First up, a sweet and simple cake from Swank Cake Design  featuring gum paste magnolias.  We'd say it "screams Southern" – but this cake would never, ever scream.  (We especially love the pale pink bands and the beautiful silver cake stand.)
And now from Atlanta, photographer Kelly LaBruyere shows us how one couple took inspiration from their college colors for everything from their socks to their cake.
Have a delicious week!
Photo copyright Martha Stewart Weddings.
Read More:
Atlanta
,
baking tips and products
,
bride as cake
,
dessert wine pairing
,
favorite wedding quotes
,
Kate Middleton
,
magnolia cake
,
NJ wedding planning events
,
Prince William
,
Raleigh
,
royal wedding
,
UGA cake
,
Will and Kate