0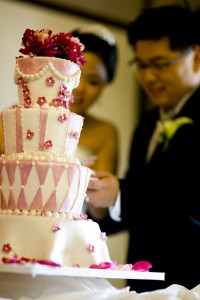 Just when I thought my cake resources where running a bit dry this beauty pops up!
First and foremost…is this not a beautiful picture?
Anyway, on with the cake!  I adore pink.  It's my absolute favorite color on the planet.  However, I personally think that pink wedding cakes can be…well…let's be honest…tacky.  I don't know why, but baby pink on a cake just doesn't do it for me.  This cake strikes my fancy though.  The first tier has a sophisticated pink and cream diamond pattern.  The second has pink fondant stripes.  But what really sets it apart are the adorable tiny dark pink fondant flowers that are scattered across the cake.  To. Die. For.  Instead of a cake topper, this couple decided to play with the dark pink color and add some dark pink gerbera daises.

If you have the time, take a gander through the Flickr stream.  This is seriously one of the prettiest weddings I've ever seen.
Read More:
dark pink wedding cakes
,
floral wedding cakes
,
fondant wedding cakes
,
Pink wedding cakes