0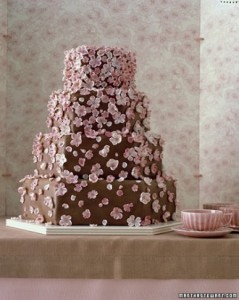 In just a few days we'll all be celebrating true love by gifting boxes of chocolate, so this seems like the perfect time to think about a chocolate wedding cake!
And since pink is one of those "traditional" Valentine's Day colors, I just had to look for a wedding cake that had something pink featured on it.
This chocolate wedding cake with tiny pink cherry blossoms fits the bill perfectly I think.
I have to admit, I'm a big fan of the chocolate wedding cake.
It's just non-traditional enough that your guests will talk about it for years, but it's not too over-the-top. And we all love chocolate so you really can't go wrong when choosing it as your cake.
Each layer of this cake is covered in chocolate fondant and then decorated with tiny and delicate pink cherry blossoms. Of course they are sugar blossoms, not real flowers.
I love how the pink and chocolate compliment each other – giving the cake a fun and playful yet elegant look. And the cherry blossoms seem to be falling from the top of the cake. It really makes you think of spring, doesn't it?
You can find this gorgeous cake here.
Read More:
cherry blossoms
,
chocolate
,
chocolate and pink wedding cakes
,
chocolate wedding cakes
,
pink and brown wedding cake
,
pink sugar flowers
,
sugar blossoms