1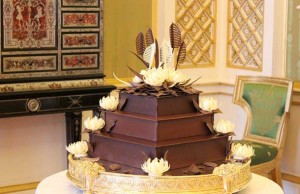 So…I know that we've talked about it.  But we haven't actually seen it.  Well, I hadn't, anyway.
Until now.
While everyone else was mooning over the giant, gorgeous, white behemoth of a cake created to mark the wedding of Prince William to Kate Middleton, this chocophile wanted to see a picture of his cake.  Alas, I got busy, and forgot to look for one – until today.
And now, after seeing this luscious treat, I can guarantee you I will be making one of these in the very, very near future.  (Like, right after I finish writing this.)
Three layers of a non-baked "cake," made of crushed tea biscuits, and held together by chocolate, heavy cream, and a little honey, and then enrobed in – you guessed it – more chocolate.  The whole, perfectly masculine, modern cake is then garnished with even more chocolate – milk and white chocolate feathers, and white chocolate water lilies.
Inspired to make your own?  Check out the recipe we posted in a recent round-up. 
Read More:
McVitie's Rich Tea Biscuit Chocolate Cake
,
Prince William
,
Prince William's Groom's Cake
,
royal wedding
,
The Duke of Cambridge