0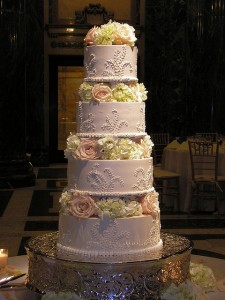 Pretty spectacular, eh?
I'm sure there is a prince or princess floating around this reception somewhere.  Or at least a socialite.
I love when white on white is done right.  The detail of the piping, which features a fern motif, is heavy enough to capture the lights and shadows, which really makes it stand out.  The flower garnish, made up of pale hydrangeas and pink roses, fills in the spaces perfectly, giving the cake a cohesive look.  This cake is kind of old fashioned, in that it's not stacked (and we predict a swing back to this practice, in the category of "everything old is new again.")  But the flowers between the layers are perfectly placed; they don't look bunchy or overdone.  The scale is perfectly complimented by that glorious silver stand as well.   This cake was definitely a centerpiece, "all eyes on me" kinda cake.
Read More:
elegant wedding cakes
,
grand wedding cakes
,
hydrangea cakes
,
roses cakes
,
Silver Cake stands
,
white on white wedding cakes
,
white wedding cakes