0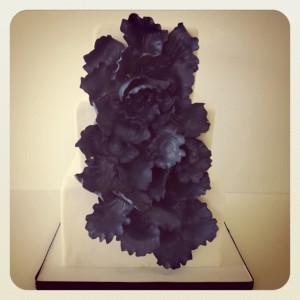 Wow oh wow oh wow – what a week!  So I don't know about you, but my fun this week included a cruise and a concert!  I need a vacation from my vacation.  While gone on the cruise, we even got to witness a wedding on the ship – with the entire wedding party dressed in white!  Now there's a persuasive bride right there.
We are officially into the swing of summer in these parts.  The kids are out of school, the pool and beach are packed, and the summer thunderstorms are cranking up every afternoon.  Ah, nothing left to do but sip an umbrella drink, turn up the tunes, and try and stay cool. 
Oh, and attend weddings and ogle beautiful wedding cakes.
So, were interesting things happening this week in the World of Wedding?  Of course they were!  And we are here to tell you all about them.  We'll get started with The News:
Princess Diana's younger brother, Charles Spencer, married for the third time yesterday in a low key ceremony on his estate, Althorp.  The bride is Canadian socialite and philanthropist, Karen Gordon.
Cypress played host to a mass wedding on a grand scale, as 154 couples tied the knot there in attempt to break a record Saturday.  Now that's a cake we'd like to see.
Sure, we've all been there – being a bridesmaid in our girlfriends' weddings.  Here's an article that takes a look at the real cost of being a bridesmaid.
And onto the Sweet and Pretty!
Better late than never, here's the recipe for the Royal Wedding Cake.  I will soooo be making this.
I am lovin' Corrin and Johnny's retro-inspired wedding, complete with a beautiful cocktail-length wedding dress (replete with crinolines!), the lovely bouquet, and the stunning yellow bridesmaids' dresses.  Just lovely, courtesy of Polka Dot Bride.
Here are some lovely cupcake wedding cakes and sweets tables, complete with stunning backdrops, courtesy of Tee and Cakes.  (Isn't that the cutest name ever??)
Julie from Vintage and Cake highlights a busy Saturday, filled with a purple and yellow wedding cake that sounds as good as it looks, and some of the prettiest vintage-inspired cupcakes you ever did see.
100 Layer Cake highlights Elsie and Jeremy, and their DIY corsage and boutonniere efforts, but all I can see – and love – is that gorgeous backdrop for their ceremony.  Love, love, love!
I am amazed each and every week how wedding cake artists come up with new and visually exciting cakes!  This one absolutely arrested my attention, with its simplicity:  Sweet and Saucy's navy blue flower cake, featured above.
Have a delicious week!
Read More:
being a bridesmaid
,
blue flower wedding cakes
,
Charles Spencer
,
colorful wedding favors
,
cost of being a bridesmaid
,
Cypress mass wedding
,
golf course weddings
,
Karen Gordon
,
purple and yellow wedding cakes
,
royal wedding cake recipe
,
vintage wedding