0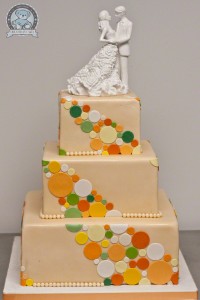 Hiya!
So…how are you keeping cool during this scorcher of a summer?  We're fanning and heading to the beach and drinking plenty of iced tea.  And while summer is scorching the rest of you, it's just plain ole' normal hot here in Florida.
But the heat hasn't stopped the deliciousness that is a summer full of weddings.  We've seen some nifty things this week that we're excited to share with you.  But first, here's a little News:
Many celebrate as same sex marriages become legal in New York on Sunday.
For you football fans – and football widows – out there:  Pittsburgh Steelers Quarterback Ben Roethlisberger married fiancee Ashley Harlan yesterday, with a reception for 650 in Pittsburgh following the ceremony.  (Pssst…we hear the six-tiered cake will be all kinds of vanilla yumminess, and is being made by Vanilla Pastry Studio in East Liberty, PA.)
I love this story – but I need pictures! – couple marries at the grammar school where they first met – in kindergarten.  Say it with me.  Awwwhhhh.
If you'd like to see the Duchess of Cambridge's wedding dress and veil, here's your chance:  it's now on display at London's Buckingham Palace. (And we sort of agree with Queen Elizabeth…it is kinda creepy.  Maybe the Franklin Mint could've made a giant Kate doll to display it on, yes?  Instead of the headless version we see here?)
And speaking of Wills and Kate, just like Christen and me, seems they saved the top tier of that beautiful wedding cake (although it appears that in the UK, the tradition is firmly to serve it for the first child's christening.)  We bank on a solid English fruit cake holding up rather well.
And now, some Sweet and Pretty:
Jasmine from The Couture Cakery proves that an all-white wedding cake doesn't have to be an all boring. (And by the way – how cute is it that bride and groom are named Sharon and Aaron?)
A heart-warming story about how family readings and blessings can add beauty to your wedding ceremony in unexpected ways.  Courtesy of Weddzilla.
LOOK at these adorable cupcakes!  Brightly colored, tropical flower-inspired, and thrown in for bonus points – Kentucky Derby hats!  Courtesy of Cupcake Takes the Cake.
One of THE most stunning weddings, ever.  K, so I'm a sucker vintage.  But seriously, tears in my eyes as I look at this!  I can't get enough of the chalkboards with the seating charts…and the vintage china and hand-stamped utensils.  Sigh.  Jessie and Mark, courtesy of Nathan Russell Photography.
Dream Day Cakes has some stunning summer wedding cakes to brag about…we're especially loving the myriad of monograms and the orange polka dot bubbles, featured above.  Fab!
I heart this dress!  Pink roses.  Courtesy of Lovely Bride.
I couldn't resist this Palmetto, Florida wedding, courtesy of The Oceanside Bride.  Pinwheels, people!
Read More:
ashley harlan
,
ben roethlisberger
,
Duke and Duchess of Cambridge
,
gay weddings ny
,
Kate Middleton's wedding dress
,
kentucky derby hat cupcakes
,
monogrammed wedding cakes
,
oceanside weddings
,
orange wedding cakes
,
pink wedding dresses
,
pittsburgh steelers
,
Queen Elizabeth
,
royal wedding cake
,
same sex weddings ny
,
saving the top tier
,
texas weddings
,
tropical flower cupcake
,
vintage weddings
,
wedding cupcakes
,
white wedding cakes
,
Will and Kate