0
Posted on June 26, 2011 by Brooke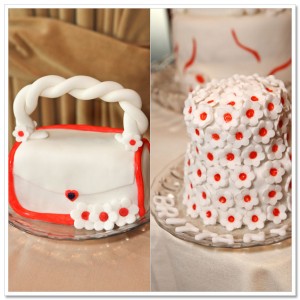 Boys and Girls – the cruise was awesome!  Three days and nights of beaches, clear, turquoise water, cocktails, and pampering – and not a child in sight! (well, not a child of mine in sight, anyway.)  It was truly a magical time, bonding with the girls, having a good time relaxing, and recharging.
So, back to life, back to reality this week.  But not for long, as I head to one of Florida's premiere destinations for weddings next week – the South Seas Resort on Captiva!  Don't worry; I'll bring you back some salt water taffy. 
In the meantime, we have work to do, and a blog to round up.  I am constantly amazed and astounded at the stunning work I see around me everyday in the wedding industry, and how creative today's artists – and brides – are when it comes to planning this special day.  So, here's what we found to bring you this week.  But first, the News:
We're thick into the wedding season.  Here's some timely advice on wedding gift buying.
Considering a flower man versus a flower girl?  Well, apparently, you aren't alone.
Want to give your wedding a personal twist?  Here are 20 ideas to make it creative.
But onto the Sweet and Pretty:
Style Me Pretty shows us one of the most beautiful weddings we've ever seen – complete with champagne and whoopie pies! 
The Favour Shoppe Blog plays host to guest writer Jennifer McAdam – who tells you why you need a wedding planner.
Lovely lovely lovely new bridal gown collection by Amy Kuschel, courtesy of Wedding Chicks!
Personal wedding cakes for each guest?  Yes, please!  Thanks to Borrowed and Bleu for featuring Carrie and Andrew's fun and intimate wedding. (Those are a few of the cakes in the picture featured above.)
Tee and Cakes  is mentioned in this article that takes a look at pairing craft beers and wedding cake.  What?  Pairing craft beers and wedding cake.  Who knew??
Project Wedding shows us the lovely how-tos behind a pretty pink and green bridal shower.
Have a delicious week!
Read More:
amy kuschel
,
baby cakes
,
bridal shower cake
,
bridal shower sweets table
,
creative wedding tips
,
flower man
,
individual wedding cakes
,
personal wedding cakes
,
Sam Houston Park
,
wedding gift buying
,
wedding planners
,
whoopie pies
,
why you need a wedding planner
Recent Posts