0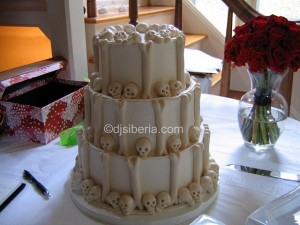 Yup, that's a wedding cake.  With skulls on it.  I think I have seen everything.
I actually filed this away for Halloween but after staring at it for a full fifteen minutes I knew I couldn't wait.  I had to share it now.
This quiet a lovely three tiered stacked round cake covered in flawless white fondant.   Adorning the sides…well we've already discussed that those are small skulls.  The vertical stripes going up the sides of the cake are actually replica bones.  The bride was actually inspired by Tim Burton's Corpse Bride.  I love how this bride took a theme she really wanted (skulls and bones) and presented them in such a classy way.  This could have easily gone over the top but it's simple, sweet and full of uniqueness.  It sort of makes me want to be the bride's best friend. Check out the gorgeous bridal bouquet of dark red roses next to the cake.  Stunning!  I wish there were more pictures of this wedding floating around the interwebs.
What do you think?
Read More:
corpse bride
,
corpse bride wedding cake
,
fondant wedding cakes
,
goth wedding cakes
,
skull and bones wedding cakes
,
white wedding cakes