0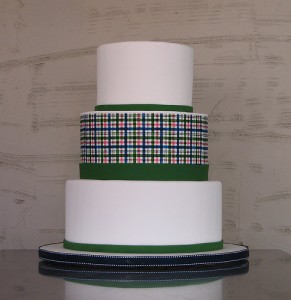 Remember a few months ago when Brooke admitted her deepest darkest secret about her love of all things plaid and we all just nodded and smiled and hoped the men in white coats would be nice to her?  Well Brooke, and other plaid lovers, this cake is for you.
Another spin on a tartan inspired cake made by the Whipped Bakeshop in Philadelphia, Pennsylvania.  I love how this cake takes the time honored tradition of a family tartan and combines it with a clean and modern crisp white cake.  The middle tier is an exact replica of the grooms family tartan which was hand painted and transferred to the cake using a "super secret method" according to the Whipped Bakeshops website.  An emerald green ribbon surrounds the base of each tier giving it that extra bit of Scottish flare (or Welsh?  I'll have to ask Brooke..I'm not up on my plaid know how).
I really want to throw in the word juxtaposition in this post somewhere so here it goes.  The top and bottom crisp white tier have a nice juxtaposition against the middle tartan inspired tier.  (Yes, I had to look up juxtaposition to make sure I used it right.  I also am still not sure).
Read More:
green wedding cake
,
philadelphia bakers
,
plaid cake
,
plaid wedding cake
,
tartan wedding cake
,
whipped bakeshop