0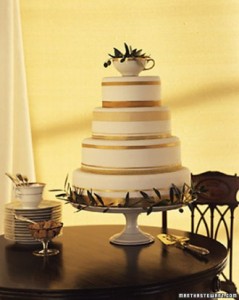 It used to be a tradition for a bride and groom to pick out a china pattern before they married.
Then, guests would purchase items from the china pattern and gift them to the new couple. I was one of those brides who registered for a china pattern. I've used it exactly once in the past 12 years.
But just because choosing a china pattern has fallen out of favor with some modern brides doesn't mean your cake can't be inspired by a china pattern.
There are hundreds of pattern from which to choose, but I really loved this gold band wedding cake. Not only does it replicate a lovely china pattern but it also speaks to the wedding bands the couple will exchange.
This white wedding cake is decorated with bands of gold ribbon while the olive branch sprigs represent fertility. This would be a gorgeous cake at a formal wedding.
You can find this china pattern-inspired cake here.
Read More:
formal wedding cakes
,
gold and white wedding cakes
,
gold wedding cakes
,
patterned wedding cakes
,
white wedding cakes