0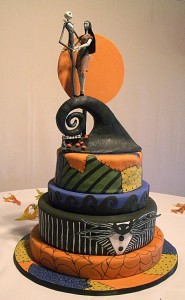 I love The Nightmare Before Christmas. In college my sorority had a Halloween Mixer. Most of my sisters went as nurses or some sort of cute animal like a kitten or a tiger. I think Cady Heron (a.k.a. Lindsay Lohan in Mean Girls… before she went all nutso) said it best, "Halloween is the one night a year when girls can dress like a total s— and no other girls can say anything about it."
Me? I went as Sally from The Nightmare Before Christmas. I didn't get the memo about the skimpy costumes.
When I found this cake on Pinterest I squealed with glee! Even more so than The Nightmare Before Christmas I love Halloween. This cake was made for a Halloween wedding with a Nightmare Before Christmas theme. Now this was a wedding I would love to see more pictures of. This four-tiered round cake is covered in colored fondant and is nothing short of amazing. The spiderwebs and and stripes were applied to the fondant using edible markers. The cake is topped with a Jack Skellington and Sally topper and the moon is also made of fondant. This fun cake was made by Stephanie Felts of The Sweetest Day Cakes in Nashville, Tennessee. Go check out her website–it is full of amazing wedding cakes!
Read More:
halloween themed wedding cakes
,
halloween wedding cakes
,
halloween weddings
,
nightmare before christmas
,
the nightmare before christmas themed cake
,
the nightmare before christmas wedding cake
,
tim burton
,
tim burton weddings