2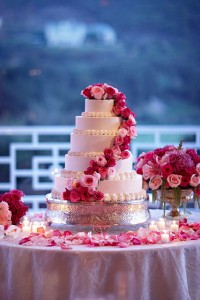 I love pink roses. They are my second favorite flower…next to the gerbera daisy. I got married in October and when I met with my florist I said, "I want gerbera daisies," and he said, "Change your wedding day and we have a deal!"
Apparently October is not the idea time for daisies. Who knew?
And so I settled for roses. I guess this really wasn't so much settling as I do love roses as well. I told him I really didn't care as long as they were pink. "What about hot pink?" he said. From that moment on my world was rocked and I was in love with hot pink flowers. Oh yes.
Hot pink, fuchsia, and light pink roses were all over my wedding..as far as the eye could see. You need proof? Check out my wedding cake I posted a few months ago.
This cake, though, takes my love of hot pink flowers through the roof, down the street, and around the block. Check out all those beautiful, beautiful flowers cascading down this cake…and around it…and under it…and beside it. Oh…I want to take a bath in those flowers. Hmm…that actually sounds oddly fun?
Anyway…this is a great way to snazz up a traditional cake. Let's face it:  Pink Makes Everything Better.

Photo Source
Read More:
hot pink roses
,
hot pink wedding cakes
,
pink roses
,
pink roses on wedding cake
,
pink roses wedding flowers
,
Pink wedding cakes
,
rose wedding arrangements
,
rose wedding cake