0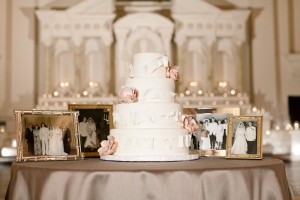 Happy Weekend, Everyone!  I hope some part of this end-o'-one-week-beginning-o'-the-next finds you with your feet up, enjoying a cup of coffee (or a cocktail) while relaxing, and enjoying the last few days of this wonderful, lazy time of the year.  Here, we're enjoying time with friends at the shore, so we'll stop grimacing at the high temperatures, and pray that the weather gods hold back the rain for just a few days, so we can play in the surf and build sandcastles like with our children.
As we gear up for back to school at my house, I'm still looking forward to the taste of spice cake, a bumper apple crop, and the feeling of long sleeves.  For now, though, we'll celebrate the last few weeks before Labor Day with all the pretty that summer has to offer.  But first, The News.
Tybee Island, near Savannah, Georgia, has gotten a new wedding chapel – and event planner to the stars, David Tutera, was on hand Friday to christen it.
Supermarkets are looking to keep up with the Joneses…or at least boutique and cutting edge cakeries:  Publix Supermarkets will roll out a line of what they call "modern and trendy" wedding cake designs.
Oh, but yes, here it is:  The Xbox 360 Wedding Cake.
Some resorts are starting to see a bounce back in the wedding trade, despite the slow economic recovery.
And here's a little Sweet and Pretty:
Tooting our own horn a bit…we got a TON of positive vibey feedback Christen's posts last week and this, all about choosing your baker.  Here's Part One, and here's Part Two.  I especially loved all the cake artists who told us via Twitter that they loved the posts!
This is, hands down, one of the prettiest weddings I have ever seen.  Every image is more breathtaking than the last.  From Style Me Pretty, a wedding shot by Megan Thiele Studios.
Here's an amazing giveaway for all you brides out there!  Simply Bridal, custom designer and dressmaker, is giving away a dress a day for a MONTH!  Courtesy of Oceanside Bride – check out the post for the deets!
Check out this beautiful bridal shower shoot in Malibu.  We are lovin' the adorable, ruffly cake, trimmed with seashells, by Cupcakes Couture!
A truly stunning LA wedding, captured by Erin Hearts Court, courtesy of Joyful Weddings.  We love the cake by Vanilla Bake Shop so much that we feature it above.
Some good advice about choosing wedding colors, from The Favour Shoppe Blog.
Have a Delicious Week!
Read More:
choosing wedding colors
,
david tutera
,
gaming wedding cakes
,
publix wedding cakes
,
ruffled wedding cakes
,
tybee island wedding chapel
,
tybee island weddings
,
wedding dress deals
,
wedding dress giveaways
,
weddings and the economy
,
xbox wedding cakes