0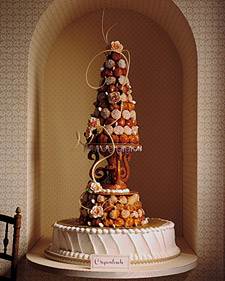 Whew!  Is anyone else dreaming of pumpkin and morning frosts? And jewel toned cakes to replace the summer glaring brightness?
Summer?  I am over you.  It's not your fault, Darling.  After all, I live in Florida, and I can have a taste of you purt near anytime I want.  But the retailers!  They're making me want crisp apple strudel, and door bells and sleigh bells and…
Wait.  Back up.  Because I think I just strayed into The Sound of Music.
Anyhoo…I am heat exhausted, and I know you probably are too.  But we'll trudge through these last few days of summer, and soon enough, those cool breezes and early evenings will bring some relief to our parched selves.
In the meantime, I have some pretty and some sweet to share with you from the World of Wedding.  So let's go.  And let's get started with The News.
Maggie Alderson of The Sydney Morning Herald says it's time To Ban the Nude Platform Stiletto.  Enough is apparently, well, enough.
It is officially over: Jay Cutler and Kristin Cavallari return their wedding gifts, signaling that their engagement is definitely kaput.
Cake Topper As Weapon:  A Utah woman faces charges when she hurls the topper from her wedding cake at her husband – and leaves a dent in the wall.
And now, some Sweet and Pretty –
We've been wanting to see it…and here it is!  All the sassy, sweet, and pretty from Miranda Lambert's wedding to Blake Sheldon – including pics of that fabulous cake!  Courtesy of Robert Evans Photography.
Ever dreamed of getting married in St. Tropez?  Well, if a destination wedding to the South a France is a wee bit out of your budget, check out this St. Tropez-inspired wedding layout, featured on The Caketress Blog. (And isn't that cake incredible?)
Your DIY for the week:  THE cutest treatment that a marshmallow has EVER gotten:  marshmallow pops!  Kitchen Runway has the how to, complete with all the adorableness captured in pictures.
And bonus DIY – because we can't resist the ____ in a jar movement.  For your pleasure, I present, courtesy of Emmaline Bride…CHEESECAKE.  In a jar. YESSSSS.
Rhi over at HeyGorg has a new assistant, Lisa.  We love EVERYTHING about Lisa's first post, a wedding inspiration board.  THE CAKE! THE NECKLACE! THE AUSTIN MANSION! THE SHOES!  Love, lurve, love, and LOVE. I especially need that pearl necklace in my life.  Like now.
We love the natural touches of this laid back Colorado rehearsal dinner.  The vistas are stunning, and the bride and groom used beautiful, natural materials, like wood and stone, to decorate.  Courtesy of 100 Layer Cake.
And finally, the above rehearsal dinner featured a croquembouche, a traditional French dessert made of a tower of cream puffs, filled with vanilla pastry cream, and held together by caramel.  Blame it on the August humidity…I'm dreaming of croquembouche right about now.  So please enjoy this over the top version, courtesy of Martha Stewart Weddings.
Have a delicious week!
Read More:
Blake Shelton
,
cheesecake in a jar
,
croquembouche
,
diy
,
diy weddings
,
fondant wedding cakes
,
jay cutler
,
jay cutler and kristin cavallari break up
,
kristin cavallari
,
marshmallow cake pops
,
Miranda Lambert
,
miranda lambert wedding cake
,
nude platform stiletto
,
st. tropez
,
wedding cake toppers as weapons