0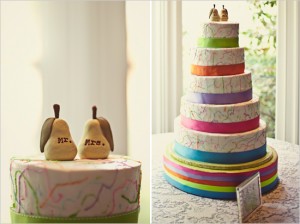 Ah, Weddings.  So many pretty things to see this week.  And we were especially bowled over by all of the incredible cakes that are being shared during this busy wedding season.  The creativity and talent of the bakers we rub shoulders with never ceases to amaze us.  So, if our round-up is a little cake heavy, please forgive me.  We are ALL about the frosting, as you know.
Before we see all that is pretty and sweet, let's take a look at The News:
Who doesn't love a Kennedy wedding?  Patrick Kennedy, son of the late Senator Ted Kennedy, married schoolteacher Amy Petitgout in a ceremony at the Kennedy family compound in Hyannisport, Massachusetts, Friday evening.  Supreme Court Justice Stephen Breyer officiated.
We love this article about a DIY wedding – and how it turned out to be cheap, green, and fun for the bride, groom, and their friends and family.
Will they or won't they?  Brad and Angelina, that is.  The mayor of Correns, France, where the nuptials are rumored to take place, says it's a no-go.
Woot!  Yay for cottage industry in my home state of Florida!  The Florida Cottage Food Act allows homebakers to sell their creations, and encourages home-based businesses. 
And now, onto the sweetness of The Sweet and Pretty:
Want to have a stunning wedding, but you and your girls (bridesmaids, that is) aren't interested in breaking the bank?  Check out these tips from One Wed on five tips for saving money on bridesmaids dresses.
Check out this Haylee and Joe's gorgeous rustic wedding, via Wedding Bee. 
Just look at this gorgeous, gorgeous blue cake, via The Bride's Cafe.  Seriously.  I want to have another wedding just so I can serve this cake.
I actually gasped when I saw this pic.  Is there anything better than an edible wedding favor?  We certainly think not.  Via Emmaline Bride, I present to you – s'mores in a jar cake. 
Oh, Bride Tide, thank you for going there.  Remember when wedding cakes looked like this?  (Yes.  We know.  Sometimes, they still do.)
Love this Tennessee wedding with lots of fun – wait for it – neon green touches!  Courtesy of Wedding Chicks, we loved it so much, we feature the adorable cake above.  And pear wedding cake toppers!  Can you stand the cuteness?!
Have a delicious week!
Read More:
80s wedding cakes
,
amy petitgout
,
angelina jolie
,
Blue Wedding Cakes
,
brad pitt
,
colorful wedding cakes
,
correns france
,
diy wedding
,
florida cottage food act
,
lace wedding cakes
,
neon green wedding cakes
,
patrick kennedy
,
pear wedding cake toppers
,
Rustic Wedding Cakes
,
rustic weddings
,
saving money on bridesmaids dresses
,
smores in a jar cake
,
vintage wedding cakes
,
wedding cake toppers