Teal Wedding Cakes
The color teal can evoke images of many things. Most often associated with a deep blue green color, teal can range from pastel to dark, and can call forth images of Tiffany boxes, Vera Bradley patterns, sea glass, ocean water, or a myriad of other things.
The couple who chooses teal has the option to use it as an accent color, or to enrobe their entire cake in this rich, cool hue, to make a statement. Piped on a white background, the effect is classic; the color pops against the simple palette, and may match other color touches in the wedding, such as flowers, candles, or bridesmaids' dresses. Likewise, a swath of teal around the base of each layer of a multi-tiered cake can provide a classic, stark contrast, and take a plain cake, and lend a touch of the couple's personality to it.
Teal beautifully coordinates with a handfull of other colors. Who can resist a stacked square cake, done up in Tiffany blue, with white fondant ribbon? Teal and white are magical together. Or, if the couple prefers, teal and black work well together, too. In contrast to the classic teal and white combination, teal and black make for a dramatic statement, and would be especially appropriate for a winter wedding, or a more formal occasion held in the evening. Another color combination that is proving to be very popular at present is teal and brown. Rich brown makes a perfect foil to the cool teal, whatever the hue.
If teal is a color that you favor, by all means, consider using it on your wedding cake. Whether in the form of gumpaste flowers, satin ribbons, enrobing fondant, or accents of buttercream, your cake will express your unique personality as a couple.
0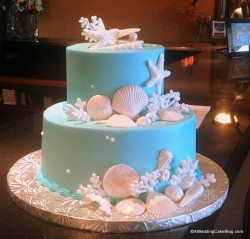 A few weeks back, my aunt, uncle, and their family headed to Key West for some fabulous R&R.  Have you been to Key West?  If not, put it on your list.  Right now.  No, I'm serious.  Go get a pen.
While they were there over Memorial Day weekend, the inn where they stayed happened to be the location of a Read More
2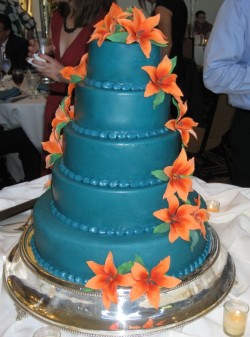 Wow. Blue.
I've got to admit. I'm all over this color scheme. It might be a bit much for some..and I can only imagine what my teeth would look like after I chowed down on this bad boy..but it's kind of amazing. This is a five tier round cake covered in a deep teal fondant and covered in lillies. The twenty-four lilies are actually made from gum paste. That shocked Christen Read More
1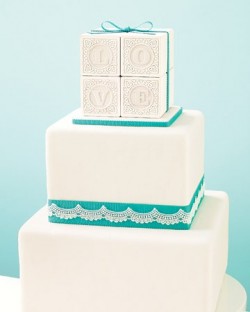 Raise your hands and shout "yahhh" if you've got a thing for Martha Stewart. Let's face it. There is only ONE Martha Stewart and I loves her. I seriously don't think I've ever met anyone that said they hate Martha Stewart–well maybe people who know her personally–but like her stuff and her style…I just don't think anyone can hate her. If you hate Martha Stewart style you probably kick puppies. Or, you don't…whatever.
My point? I do have one. I fell head over heals for this L-O-V-E Block Cake Topper that was found on Martha Stewart Weddings. The topper consists of four blocks spelling out the word love. My favorite part is the gorgeous teal bow that is wrapped around the boxes that coordinates with the fondant stripes around the base. On a somewhat random note I used to have a silver piggy bank that looked just like this topper. Anyone else…or was that just me?
What do you think? Do you share a love for Martha or are you not such a fan? Do you think it's weird she used to date David Letterman? That's a couple I can't see together. Oh well…too bad it didn't work out. They would have had a gorgeous cake.
0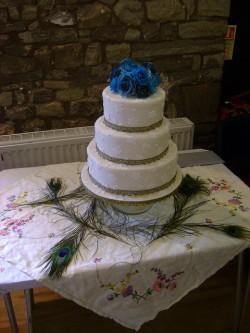 There is something simply stunning and sophisticated about the peacock–don't you agree?
It only makes sense that it would inspire a wedding cake..another stunning and sophisticated item.  This three tiered round cake is a covered with fondant and decorated with fondant leaves.  The peacock inspired the green color around the base of the tiers and the peacock blue flowers Read More
0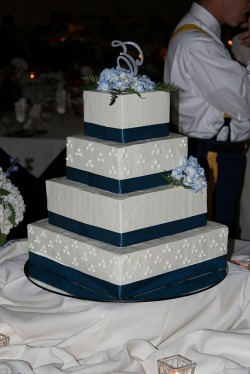 I love the color Peacock Blue. I was about ten seconds away from putting my bridesmaids in head to toe Peacock until my senses got the better of me and I realized I wanted to keep these girls as friends. I mean really is Peacock that bad? You wouldn't believe the glares I got from some of them.
Well ladies..bam! Because here is a gorgeous Peacock Blue wedding cake Read More