0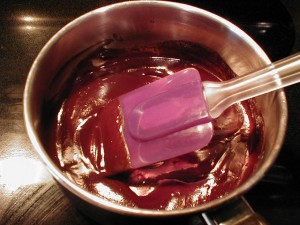 I had so many giggle-inducing puns that I wanted to use as a title that I just couldn't decide.  Here are just a few:
Get Your Ganache On
Oh Ganache…it's Chocolate!
Getcha, Getcha Ga-ga–naache (to be sung in your head to the tune of Lady Marmalade)
Ganache!!! Gesundheit!  (I'll admit…this one was my favorite)
I can't believe I have waited this long to talk about my very favorite thing when it comes to wedding cakes:  Ganache.  Most people think ganache is just a fancy word for "Chocolate Icing" but I am here to tell you my friends…it is not.  Ganache is its own special kind of chocolate.  Ganache is made by heating cream and then melting dark semi-sweet chocolate and blending until smooth.  It can be infused with fruit extracts or liqueurs to enhance the flavors.  I once tasted a vanilla cake iced with chocolate ganache that was infused with Mandarin Oranges and I almost died.  Not from choking…from happiness.  Ganache can be used for a ton of stuff…anything from truffles to wedding cakes.  The best part about ganache?  Much the same as buttercream, you can have ganache in the layers of the cake or on the outside as an icing instead of fondant.  OR, you can cover your cake with ganache and then cover the ganache with fondant.
But to heck with fondant.  That's what I say.  However, I totally understand that I am in the minority here.  Most brides want a stunning cake that can be a work of art on their wedding day.  A ganache-covered cake doesn't provide much room for anything other than decorating with flowers.  Also, ganache…well…it's just brown.  I can't even imagine the disastrous outcome that would occur if you tried to change the color of the ganache.  So a brown wedding cake might not work well with if your color scheme is pink and black.  Ganache can also easily melt, so it would be a bad idea for an outside summer wedding…especially down here in the South.  But my wedding was in October…and inside…so I threw caution to the wind…I chose taste over artistry and I covered my cake in ganache.  Because for me…there was no other way.  Ganache is also a perfect way to top off the ever-so-popular wedding cupcake.
In honor of our celebration of ganache today I've decided to show you some old favorites that we have featured here on A Wedding Cake Blog.  Like this adorable Tour de France Cake that we featured a few months ago.  A cake like this really lets the topper take center stage.
Or, how about Brooke's Chocolate Raspberry Cake that she made for her hubby on his birthday?  Sure it wasn't "technically" ganache according to Brooke..but it looks ganachey to me!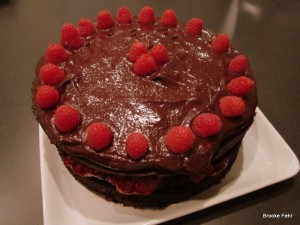 How about these whipped cream filled and ganache topped little goodies.  I KNOW these bad boys were amazing because I ate some on my wedding day.  (In case you didn't get that..these were my cakes!)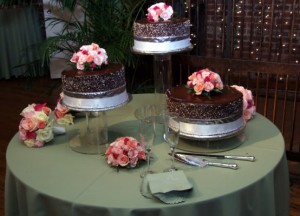 Here it is though.  The ONE.  The jewel in the ganache crown.  This gorgeous ganache spin on a traditional wedding cake by The Whipped Bakeshop should make everyone a believer in all things ganache.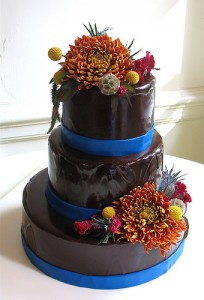 So how about you?  Are you a ganache on the inside or the outside kind of person?  Does it appeal to you but you long for the look of a traditional cake?  Most importantly…which is your favorite title for this post?
Read More:
alternative wedding cake designs
,
chocolate
,
chocolate wedding cakes
,
ganache
,
ganache wedding cakes