0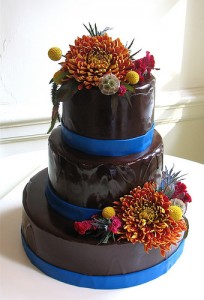 Does anyone else have the strong desire to just whip out your finger and dig it right into this cake until your knuckle deep in chocolate ganache or is that just me?
This three tiered circle cake is slathered in bittersweet ganache and beautiful blue fondant bands around each tier. The flowers on the top and the side just make the cake pop with color.  I have to admit I love the placement of the flowers as well.. kudos to Hana and Posy in Philadelphia, Pa.  Now that we have appropriately drooled over the OUTSIDE let's talk about what's inside.  This is a chocolate fudge cake with raspberry and truffle cream filling.  Oh wait, that's not all..it's all crumb coated with chocolate meringue buttercream, and of course the ganache that we've already discussed.  Oh my..goodness.  Let's face it..fondant cakes are gorgeous but fondant isn't exactly the tastiest stuff on the planet.  There is NO part of this cake that would go to waste if it was on my plate.  No ma'am.
This beauty is from the Whipped Bakeshop in Philadelphia, Pa.
Read More:
bright blue wedding cakes
,
chocolate
,
chocolate ganache cakes
,
chocolate wedding cakes
,
whipped bakeshop