0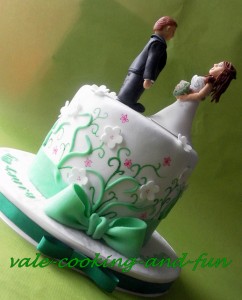 What do you do when you're having a small wedding, or if you're eloping?  Do you forego the cake altogether?  Well, you don't have to.
I thought this cake was adorable at first glance.  I think my favorite thing about it is the "mixed media."  The artist paints a floral motif, but then pipes some stems in a matching green for emphasis.  She paints flowers, but then affixes fondant flowers as well.  The combination of the painting and the piping and fondant work give the cake a delightful 3D quality that literally make the details of the cake pop.  The bride and groom cake toppers, I would assume, closely resemble the happy couple.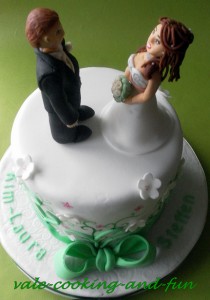 If you'd like to read the post about this lovely cake, and other confections like it, check out Cooking and Fun (and hopefully, you can read German.)  I love the amount of detail and thought that went into this little cake.  From the cakeboard to the moulded hands on the cake toppers, nothing was completely carelessly.  Well done!
Read More:
Bride and Groom Cake Toppers
,
colorful wedding cakes
,
flower motif wedding cakes
,
fondant wedding cakes
,
german wedding cakes
,
miniature wedding cakes
,
small wedding cakes