peacocks
2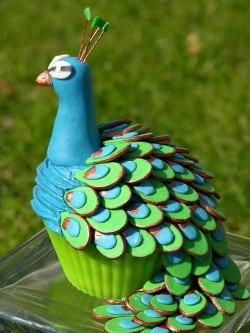 This is one of the the fanciest cupcake that I have ever laid my eyes upon.  I can't even imagine the work that went into this.  The amount of time it would take to make a slew of these for a wedding might be a little bit insane…however, I could totally see it as a big cupcake for the top of a cupcake tower…can't you?  Or maybe even a few of these peacock cupcakes amongst a bunch of teal cupcakes, like the one that makes up the body.
Either way I found this cupcake on Pinterest and I knew it must be blogged about.  The Read More
0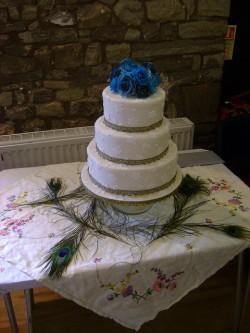 There is something simply stunning and sophisticated about the peacock–don't you agree?
It only makes sense that it would inspire a wedding cake..another stunning and sophisticated item.  This three tiered round cake is a covered with fondant and decorated with fondant leaves.  The peacock inspired the green color around the base of the tiers and the peacock blue flowers Read More