0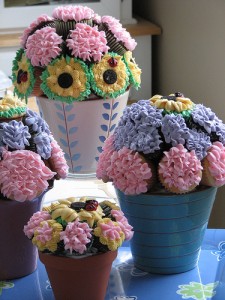 So, I love an artfully arranged group of cupcakes, and for a wedding, a display that mimics a tiered cake is certainly adorable and appropriate.  Still, for that bride who would like to do things a little differently, or stand out from the crowd just a wee bit, I offer you…Cupcake Bouquets.
Dress your cupcakes up like your favorite flower, find some whimsically-colored flower pots, and make a bouquet out of your cuppies!  I think this is brilliant.  Guests can help themselves to the treats, picking flowers in your decadent cupcake garden!
If this is a little too informal for your vision of a wedding, it would still be darling for a bridesmaids' luncheon.  Heck, with Mother's Day coming up, this could be the perfect centerpiece for that spring celebration as well – you're welcome!
Read More:
colorful cupcakes
,
cupcake bouquet
,
floral cupcakes
,
flower cupcakes
,
garden cupcakes
,
garden wedding cupcakes
,
themed cupcakes