0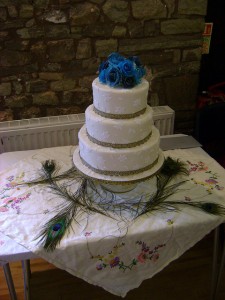 There is something simply stunning and sophisticated about the peacock–don't you agree?
It only makes sense that it would inspire a wedding cake..another stunning and sophisticated item.  This three tiered round cake is a covered with fondant and decorated with fondant leaves.  The peacock inspired the green color around the base of the tiers and the peacock blue flowers that are used as the topper.  The peacock feathers are a great way to decorate the cake table and tie in the overall theme.
In other peacock news…did you know that typically a male is only called a peacock–and males and females are actually referred to as peafowls?  That is your science lesson for today.
Read More:
fondant wedding cakes
,
peacock wedding cakes
,
peacocks
,
round wedding cakes
,
Teal Wedding Cakes